Climatica Weather Station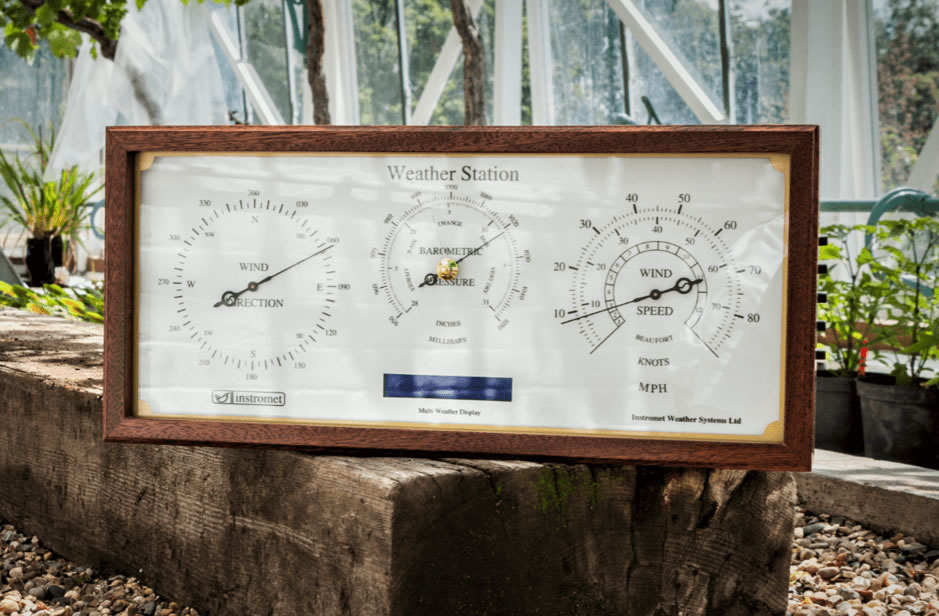 Climatica weather station overview
An automatic weather station with a clear visual display of weather parameters combined with an incredible handcrafted finish. The Instromet Climatica Weather station combines functionality with versatility in an eye catching, centrepiece instrument.
The Instromet Climatica weather station has a wide range of weather monitoring functions. Wind speed and direction as well as barometric pressure are all displayed on a dial display. A Multi Weather Display (MWD) shows the temperature also rain, sun and humidity data. The Climatica connects to all Instromet sensors and is also expandable with our data logger.
The Climatica weather station has a Multi Weather Display (MWD). This has auto sensor detection technology with the ability to display any Instromet sensors. The weather station initially displays the temperature sensor outputs on the MWD. Add a rainfall sensor to the station and this sensors data will instantly appear on the MWD display. Attach additional Instromet weather sensors and these will also appear on the display. For a complete list of the MWD's functionality please click the following link MWD Information
The display cabinet wood types and wind speed units can be selected when ordering. Please ask for further custom options.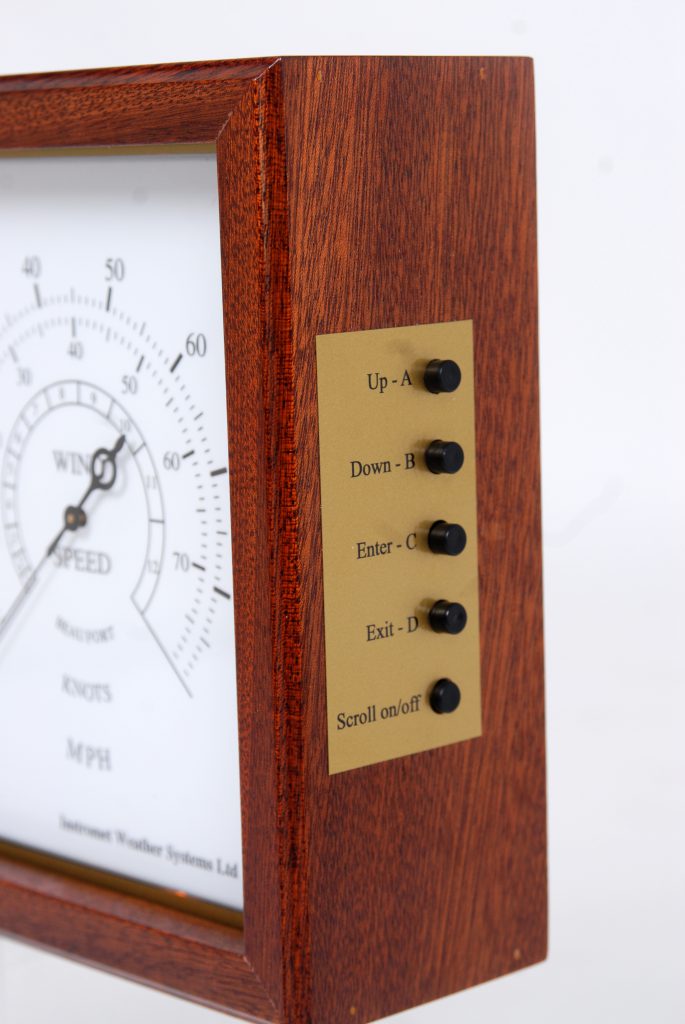 Climatica Junction Box
The Climatica weather station display is supplied with a junction box. This gives a connecting interface for the sensors. The junction box also houses the data logger (PC interface) which can be purchased separately.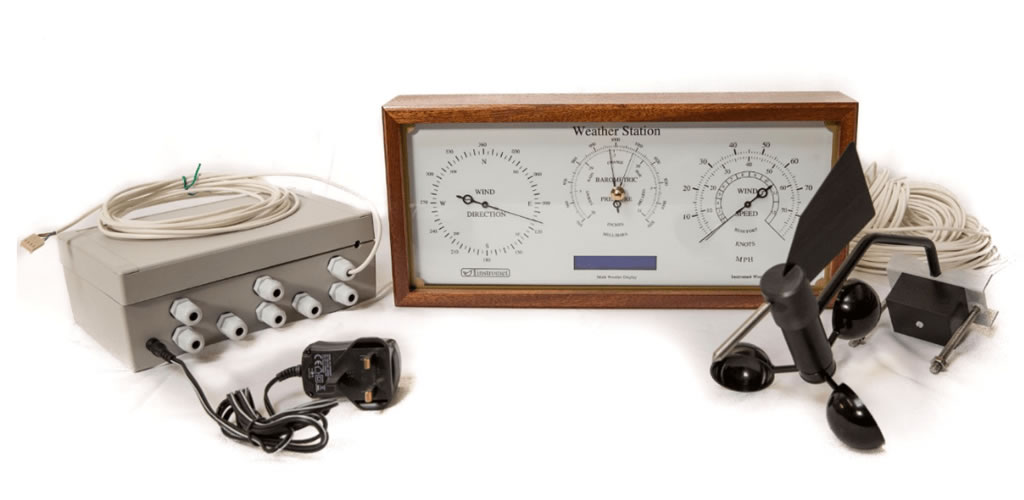 Wind Speed units:
Miles Per Hour (M.P.H.)
Kilometres Per Hour (K.P.H.)
Metres Per Second (M.P.S.)
Cabinet variations:

Weather sensor options available
Technical Specification
Display:
Wind Speed: (MPH/KPH/MPS) Gust and Direction. Analogue pointer with gust indicator calibrated scale 0 – 90 mph, 0 – 80 knots and 1 – 12 Beaufort scale, accuracy ±5%.
Wind Direction: Analogue 8 point scale, subdivided in to 30° points, electronically damped, accuracy ±10° Resolution >10°, Threshold 3 Knots, 3.5 MPH – damping delay 2-3 seconds.
Instromet "Multi Weather Display": MWD Information
Display case: 390 mm long x 178 mm high x 68 mm deep.
Material: Wood Finish.
Finish: wood finish acid acrylic lacquer natural, glass window front.
Scales: Black on white background.
Sensors: any from the Instromet range all suitable for mast mounting 30 – 50 mm diameter.
Cable: Display cable 4 x 7/0.2 T.C unscreened pvc/pvc – 5 metres.
Junction box with plug-in power unit – supplied.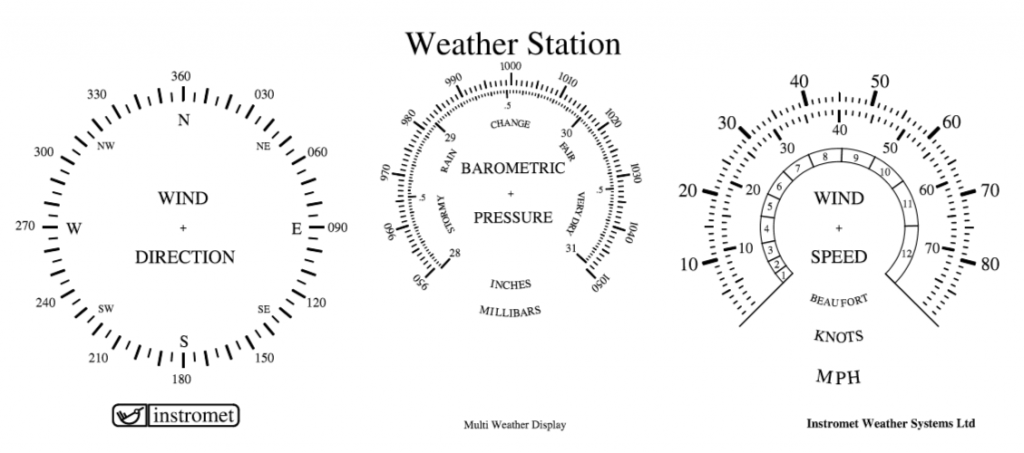 Optional extra
Data logger part no. 480 1000 148 to connect your Climatica to a PC.
Mounting kits available:
1 metre mast #480 1000 094
2 metre mast #480 1000 096
Tile and wall clamp #480 1000 097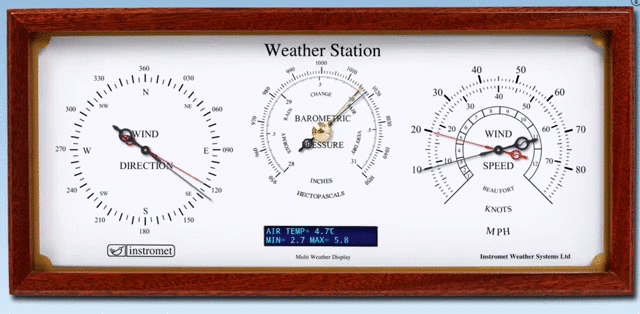 What our customers said
It looks brilliant. I'm absolutely delighted, thank you – Simon L
It's fantastic. Well done you guys. I can't keep my eyes off it – Ken B